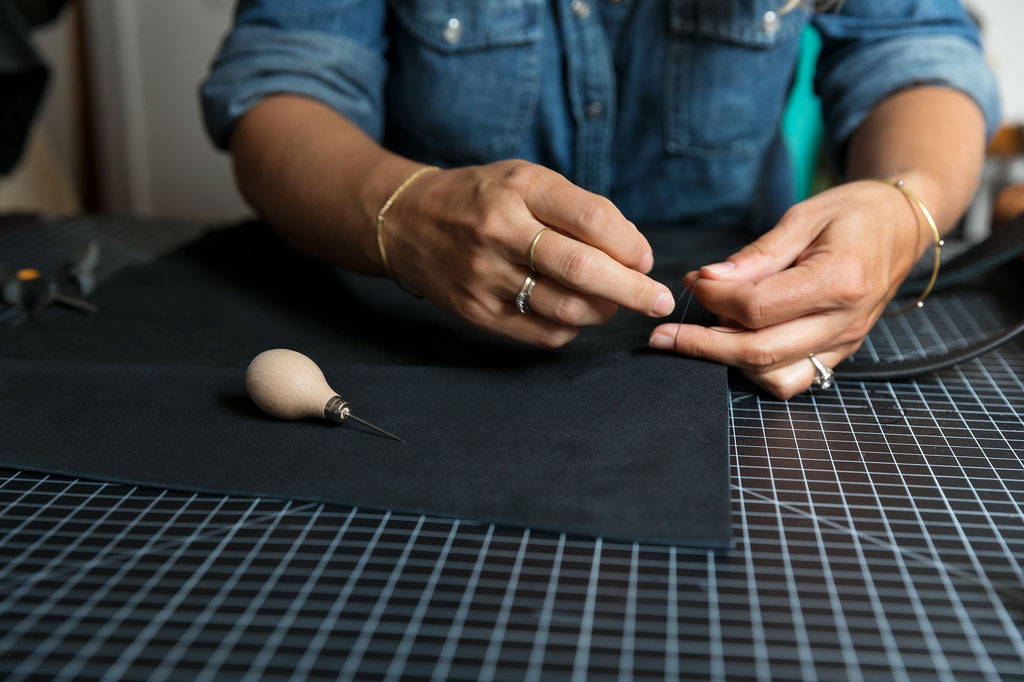 WE'RE HANDBAG ENTHUSIASTS DEDICATED TO DESIGNING & CONSCIOUSLY CRAFTING MODERN LEATHER BAGS THAT YOU REACH FOR EVERY DAY.
Shana Luther is a collection of handcrafted, modern leather bags created for people who appreciate effortlessly cool, beautifully textured, uncomplicated goods. Our brand's ethos is rooted in minimal and original design made with thoughtfully sourced materials and impeccable craftsmanship. As a result, our bags don't look like traditional handcrafted leather bags on the market today. Using leathers that are pebbled and soft, hardware that's sleek and polished, and a style that's modern and unfettered is what sets our brand apart. We're proud to be a certified Made in Brooklyn brand.
MATERIALS & HARDWARE
Although you won't see a large amount of hardware on our bags, when we use it, we use the good stuff. All of our hardware is solid brass. We love brass for the weight, the durability and the beauty of it. Like leather, brass will break in and develop a beautiful patina as it ages. Our lining is US sourced 100% cotton and our zippers are produced by YKK with a special extra gold coating. We work hard to source from American vendors and when we find a vendor we like, we like to stick with them. Because of this, we have formed solid vendor relationships which helps us maintain quality control of the materials coming into our studio.
LEATHER
Leather is a natural material, and it's unforgiving when made into bags. It originates from an animal, and we wholeheartedly respect those origins and keep it in mind while working. If we mess up a stitch, there's no coming back. It's tough and just gets better with age. It's badass. This is why we love leather. We source our leathers from U.S. tanneries and take great care ensuring every hide meets our expectations. We use our signature leather for most of our collection, which has a subtle pebble effect and a soft, yet very strong hand. Our leathers are extremely durable and are made into bags that will last a lifetime. Your bag will get softer as you wear it and break in beautifully over time. We like to think of ourselves as leather snobs.
PRODUCTION
Almost our entire collection is produced in-house, but some aspects of our bags are outsourced to local handbag manufacturers. Most of the straps, for example, are produced by a family-run company in New York City's Garment District.
We're huge sticklers for quality craftsmanship, and we won't sell a bag that we don't 100% stand behind. You won't see uneven stitching on our bags. We believe in buying quality goods over fast fashion and supporting small businesses across the globe. We love what we do and hope you do too!